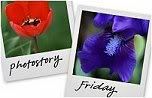 Hosted by Cecily and MamaGeek
Once again, I have come across another fun, addicting (i know...you've heard it all before...) blog, with great stories. So, this morning, on
Lacey in Love
, I was introduced to
Photo Story Friday
...... Of course I had to join in the fun!!!
At one of my favorite BBQ restaurants
Thank goodness it was pretty slow during the time we were there, so people didn't hear my "motherly advice"
I love each of my children in their own special way. They are each VERY different in everything--height, weight (based on age, of course), attitude, likes/dislikes...you name it; especially on the subject of food & eating....who's picky & who will eat anything I put in front of him/her?? Anyway, for the most part, I try to be pretty fair on what I cook or where we go to eat; yet at the same time trying new things & reinforcing the "try it, you will probably love it". For me, I love barbeque; I love a good bbq beef or pulled pork sandwich, green beans (with the works---you know how they do it...bacon & onions & seasonings......certainly can't be good for you anymore), baked beans, cole slaw, corn on the cob, collard greens and more. Oh and NO--not all at once!! Our local "Blackwater BBQ" has family night on Thursdays & I decided (against my better judgement) to indulge my cravings and take the kids!! I say "against my better judgement" because I know that I will have to deal with whining and complaining from at least 2, probably 3 of my kids..... any guesses which ones??? But, I go ahead with it, because I was wantin' some BBQ. And, like I knew would happen, I had to endure the "pain" for my own pleasure!! We were there at least an hour...during which most of the time I was explaining about the food, convincing that it was good, threatening on their lives if not to eat (no, not really...but I felt like it...hehe). To be fair, I will admit that my sweet, good-eater, not-picky Ethan never let out a peep, ate every bit of his food & enjoyed it....Thank you, honey!!
So, I just ask...why do I knowingly torture myself??
And just because I thought it would be funny......I made them all take a pig-nose picture with the pig nose!! (now, this will teach you for giving me a hard time while I'm trying to enjoy my dinner!!!)