Another one of my favorite posts of the week.... one where I get to share some more about me through photos!!!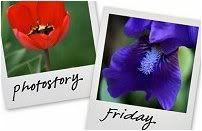 Hosted by Cecily and

MamaGeek
These girls are my two closest friends....we'll call them Blondie & Brunette (for obvious reasons). I also work with both of their signifcant others (Blondie's husband & Brunettes boyfriend along with Joe are partners in the company). They are both close to me for different reasons.
Blondie & I both have children and actually her daughter and Angie are best friends too. Blondie and I have both lost a parent so we've bonded through that loss/experience. Most of the time we get to spend together is with our children; although we do have those free times (girls night out or company party etc...) where we get to go out and let loose....and that we do!!!
Brunette is not married nor does she have any children, but we've bonded because we are so much alike... we share the same likes, dislikes and personalities. And she loves my children--she is so good to them; and that is very important to me. She comes over at least once a week for dinner and to help me out a little and again, we do get the occasional night out--- which is usually spent with the 3 of us together.
They are both very special to me and I'm so thankful to have them in my lives!!! We always get a picture of the three of us together---anytime, anywhere we go........enjoy this walk down memory lane!!
Wedding
At our Super Bowl Party (Brunette is a BIG Giants fan)
Christmas Party
Bahamas
And just for the fun of it.....this is one of those crazy nights (yes, that's me smooshed in the middle) where I'm sure we consumed way too many adult beverages!!!