This is another one of those fun posts I enjoy doing...mostly because 1) I love to talk and 2) it's always hard to think of a good Friday post; mostly because I'm worn out physically and mentally from the week!!! It's Photo Story Friday....Head on over and check out the other fun stories!!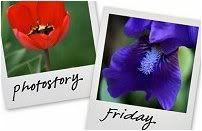 Hosted by Cecily and MamaGeek
It's hard to believe that I can say I'm a mom to a 12 1/2 (you know that 1/2 is such a big deal) year old son...in just a few short months I will have the honor of saying that I'm a mom of a "teenager"...yikes!!!!! Anyway, he is at that age now, where "things are changing"..... He is getting a few pimples (which I am very adament about how often and how strong and with what type of soaps he should use to combat those mean, nasty pimples), he's growing...you know that big growth spurt at this age, his voice is changing (I've noticed this alot more in the past few weeks) and he's becoming more interested in girls!!!!
A couple of weeks ago, we were at T-ball practice and while we were all doing our own thing (I was watching my boy play ball, and Ethan and Angie were on the playground), my big boy was on the phone with his "friend" and that friend is a "girl"....for 1 hour that talked and giggled and talked and made silly jokes and talked and then tried to convince me to take them to watch a movie.....get this, ALONE!!! Are you kidding me?? That's my boy, that's my first born boy who is such a momma's boy, who is so close to me, who I can't let go of to a "girl"!!! No, I'm kidding, I'm not that overprotective...but I do believe that he is still a bit too young to sit in a dark movie theatre with a cute young girl, unsupervised......right???
They begged me for a while, but I finally put my foot down and said that bad two letter word nobody likes to hear... N-O!! And he was not happy with me....as a matter of fact he went to a different area of the ball field and sat by himself trying to kill me with "the silent treatment":
I do trust him...he's got a good heart and great morals for a boy his age and he definitely does not want to disappoint his mom!! But that day he didn't give me much advance notice, plus I just wasn't comfortable not being there or at least in another theatre close by....Am I wrong? Am i being too over-bearing? I know kids are maturing alot faster these days....but I'm still trying to keep my boy "pure"!!! :)
****Don't forget to "Follow this Blog"...I know you're getting tired of hearing that, but I'm trying to feel cool!!! :) ****