It's Friday…… We have a busy, busy weekend ahead of us, with lots of activities planned: sleeping-in (and by that I mean laying around in bed with my pajamas on as long as I feel like),T-ball, college football, area rug buying, new kitchen knife set buying (
PLEASE
---any good ideas. I want sharp, sturdy & durable…I know that won't come cheap), laundry, air show & NFL football. Whew, that wore me out just writing that!! And you know what else is so good about Friday: PhotoStory Friday… you all know that it's one of my favorite weekly posts…..because you all know how proud I am of my family and how I love to gush, gush, gush!!! Head on over and check out some other Photo Stories!!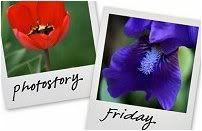 Hosted by Cecily and

MamaGeek
Can you guess what I baked last night???? I got home and realized that I had a bunch of very ripe bananas and decided instead of throwing them away (because we all know that I do not
eat
bananas that have even the slightest brown on them), I would bake with them.
So, I got all my supplies together:
Mashed the bananas:
I had my "helpers" add the ingredients:
Angie had to help too (yes, she is shirtless....my "girl" has to walk around shirtless like her brothers):
I got everything mixed together:
Mixture in the pans and in the oven:
The finished product.... two loaves of Banana Nut Bread-- one of my favorites (oops, I did have to cut off a small slice to "test" it)!! :)
I will have you know that between me and two of my children, we finished off that smaller loaf... and it was yummy!!!