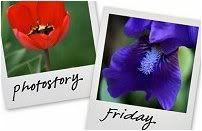 Hosted by Cecily and MamaGeek
I really do love this time of year.... I love looking at all the decorations around town and all the lights on the houses. I love the Christmas music and Christmas movies.... I even love the hussle and bussle of trying to get everything done (even though it does stress me out). The one thing I don't "love" is trying to get a good Christmas picture..... Seriously, how hard can it really be for all four of my children to look at me all at once with a nice smile?? ARRRGGGHHHHH!!!!
Angie's not looking and is puckering
Bad glare in Cj's glasses and again, Angie is not looking
Finally got Angie to look AND smile, but got a bad glare in Cj's glasses
After having such fun decorating the tree and taking some candid shots, I guess they just didn't feel like giving mommy the prize-winning shot......... Oh, but they will......... we will just try it again, t-o-n-i-g-h-t!!!
I am finally taking CJ (well, all the boys....Angie will stay home with daddy) to see "Twilight" this weekend. He has been begging me, but it has just been real busy around the house!! We've finally got a little time off and I am actually pretty excited to see it myself... hmmmmm, maybe this could be bargaining tool for a good Christmas picture, huh??