Happy Friday everyone!!! I wonder if you have any fun and exciting things planned for this weekend!?!? My first order of business for tomorrow morning is: stay in my pajamas, in bed or lounging around, for as long as possible!!! Once I finally decide to get up and dressed, then I am going to try to
finish
my Christmas shopping and do all of my holiday baking; and on Sunday, Angie is singing at the Church service at her school..... I can't wait for that, because this will be the first time she has done any type of school program!! :)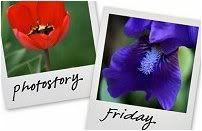 Hosted by Cecily and MamaGeek
So, to get the weekend started, I am going to do my Photo Story on CJ's band concert!! He plays the trombone for the Symphonic band at his school. My boy is very musically inclined...he can play most instruments and most of the time he teaches himself how to play them. He can play most music by ear (on any instrument); and can usually "perfect" it after only a few times!! He writes music and is actually getting very good at that!! Anyway, this past Tuesday was the Winter/Holiday Concert for his school's band and he was so excited (as he always is) to play for all his "fans"!!
Ready to leave for the concert (I still can't believe that he is almost my height!!)
On our way there...do you see how he is twirling/fiddling with his fingers...? He does that when he gets nervous and/or excited
Playing his little heart out...... he keeps going...
and going....
and going....
Standing "O" for my boy.....
Me and my lovies after the concert...
I am so proud of CJ....so proud of his talent and how he has learned (and taught himself) so much in the past couple of years; he is truly talented!! I always tell him that he should stick with it and continue with the band through high school and college.... oh, all the fun he will have in college and traveling with the band!!