Happy Friday!!!! And it is a very happy Friday!!! This is the first Friday on Joe's road to recovery; and I must tell you that things are much "lighter" now around the house. I think we are both so relieved to have answers and for Joe to have the chemo pill and start the healing!!!
And since I am talking about Joe, I will just jump right into my Photo Story Friday.....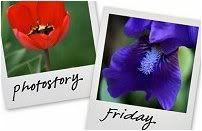 Hosted by Cecily and MamaGeek
For one of my "christmas gifts", Joe bought new counter tops for our kitchen. We live in an old house (which I love about it...because everything was built tough back then) which means lots of things were outdated....but in the past couple of years we have done some remodeling. And now was time for the kitchen....it took us a few weeks to pick the type we wanted, but we finally picked the perfect fit for us. I am crazy about it now!! I love to walk in the kitchen now just to see the newness of it!!!
This is a "before" picture (sorry about all of the stuff in the way)
And this is "After" (of that same area)..... I just L-O-V-E it!!!
My Cj...but look at the "before" behind him:
Here is "After" in that same area:
Here are a few more of the finished work: