Oh, I am so happy to be back to Photo Story Friday....you know I had a great PSF ready for two weeks ago and then BAMMMM, we got that crappy news about Joe and then my life has been a roller coaster since then. But things have leveled out a bit and I have had some time to get back to blogging and HERE I AM....Did you miss me Cecily and Mama Geek? :)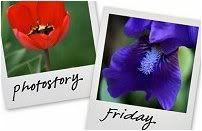 Hosted by Cecily and MamaGeek
Happy, Happy New Year to all of you.... I hope you had a fun New Years Eve; we sure did!! We actually started our night at home with a few friends over....ready to have a quiet night at home, ringing in 2009 cuddling on our couch. Angie was playing with her best friend and I had all intentions of letting them stay up until midnight..... BUT, as the night went on and we had a few "drinks" in us, we decided to go out to a local irish pub and party with all the other partyers!! So, Angie ended up going to bed early (grama's instruction upon agreeing to babysit) and off we went!!
We had a really great time.... we went up there with Joe's best friend and his girlfriend (who was here from out of town)...and we always have a blast with them!!
We watched a local "cover" band, who were were very good, and everyone danced into 2009!!
Of course I rang in my New Year with a kiss from my favorite guy in the whole world!!
Speaking of my favorite guy in the whole world.... Here is an update on his health: We went back to the doctor on Tuesday, but he (Dr. Z) did not have the blood tests back yet...bummer!!!!! So, another week of waiting. We did find out that Joe's white blood count is going down. Slowly--but going down, nonetheless!!! The waiting is the hard part...because I know we both just want to move forward and start "fighting"; but it's hard when we don't even know for sure what exactly he will be fighting!! Anyway, we go back next Wednesday and by then we should everything back and will be able to talk about a gameplan!! I have noticed Joe getting tired/worn down alot easier lately...and it lasting alot longer; but I don't know if it's from regular stuff, his medicine or his illness. Oh well.... thanks for being there to listen...and for all of your thoughts and prayers!!