Tomorrow my little girl will be 4..... and I still just can not believe it!! Wow...my baby girl.... my little angel (well, she's not always a "little angel") will be 4 years old. At the risk of being one of those moms who jumps too far ahead, only one more year until Kindergarten.... a little school girl... before I know it she will be a sassy pre-teen..... :)
For one of her birthday presents, we are taking her to Disneyworld!! She is just so excited about that...she can't wait to see Mickey & Minnie and meet all of the princesses!! And I can't wait to see the joy in her eyes when she does all of that!!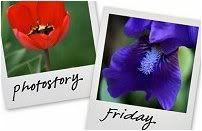 Hosted by Cecily and MamaGeek
For my Photostory Friday post, I will share a few of my favorite pictures from when she was a wee little baby.... 4 years ago....
I love this picture wih her little mouth open....that natural instinct..."rooting" for her food.... and look at all that hair!!!
Her oldest brother got to hold her first:
I love this picture because Joseph was so amazed that the baby was out of my belly and really in his arms!!
One week old....
6 weeks old:
9 months old...this is one of my all-time favorites...ever... I even submitted it into a "cutest baby photo contest" (no, she didn't win):
Oh and in all this cuteness, I just realized that this is ny 200th post.... I can't believe I have been writing this much... I mean, that was the whole point of this blog, but still, I thought I might get too busy to actually keep up with it!! I'm sure glad I did!!!
And in honor of my 200th post, I'd love for you to leave me a cool comment....or "follow me".... or send your friends over...or "grab my button" and share the love!!! (it does seem like I am always asking you guys to do that, huh??)