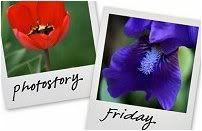 Hosted by Cecily and MamaGeek
I haven't done a PhotoStory Friday post for a while now...well, actually, I haven't done a "Friday" post for a while.... but I actually have a little bit of time before I head out for the day. It's funny how even though I am off of work, I still feel like I am going and going and going!!!
Anyway, last night Joe took me out for my birthday....we went out to dinner and to the mall for a shopping spree for me!! Now, this is a feet in itself because Joe does not like to shop at.all!!!! But he was such a trooper last night...he hung in there with me and didn't give me a hard time....even when we spent 45 minutes in Victoria's Secret...... and he did spoiled me!!!
I got shirts, shorts, a dress, sandals and some intimates from VS (but those are a bit too personal to show on here)!! Anyway, we had such a good night (and not just because he let me buy whatever I wanted)....just hanging out like school kids in the mall......people watching and giggling!!! Thanks baby....you are so good to me!!