Since I am trying to get back into my normal "blogging schedule", I am finally back to participate in PhotoStory Friday.... I do love doing that as I love pictures and I love to talk!!!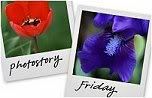 Hosted by Cecily and MamaGeek
I am going to share more pictures from our most recent Key West trip!!
Joe and I out on the boat... the weather wasn't very good this trip; but we still found a way to get out there and dodge the storms!!
This is the gigantic iguana that hangs out on our boat dock!! The picture doesn't do him justice, as he is so big it scares me!! I wonder if he will ever come after one of us....even if not provoked...?
Party night out.... somehow I got Joe into the most touristy spot, Sloppy Joe's, and even got him to dance!! two great feats---one great night!!!
:)
:)
This is our home away from home.... I know, I know
Amy
.... I am making you jealous!! :) Hey, you can come down and party with us anytime you want!!
Have a great weekend.... we will be having a busy one I'm sure!!