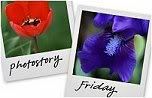 Hosted by Cecily and MamaGeek
Oh, how I miss these boys.....
my big "big" boy, CJ
my big "hearted" boy, Ethan
and my big "willed" boy, Joseph
July is always hard for me as the boys spend the w-h-o-l-e month with their dad.... and while it is "quieter" around the house and most things are a little easier without them here; it is also very "quiet" and much moring boring!! I know I usually gripe about things being too hectic and overwhelming at times, but always duing July I miss that hussle & bussle!!!
Anyway, I got the chance to see the boys for a couple hours today..... and it was a great couple of hours.... until I had to go and my little Joseph started to cry..... and cry harder....and cling to me and not let go..... and have to be pulled off of me and get closed behind the door---quickly. Oh how that breaks my heart!!!
But thank God for this girl.....
She keeps me on my toes and keeps my mind busy while "her guys" (as she calls them) are away. She talks my ear off and has me dancing and playing house.... and scolding her every other minute as she is an independent 4-year old.... but if she weren't here, I'd surely lose my mind!!!
HAPPY WEEKEND!!!